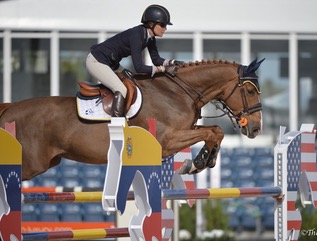 Tara Gallagher started her lifelong love of horses as a young girl fox-hunting and in Pony Club in the farmland of Connecticut. She started show jumping as an adult and had the fortune to compete internationally at competitions such as Hickstead, The Glock Show and London GCT. Under Nicki's careful tutelage she and her mount Apple produced strong rounds in well renown competitions such as the LA Masters 2*, Hampton Classic, American Gold Cup, Miami GCT and WEF.
Tara deeply admires Nicki's remarkable ability to understand what each horse needs individually to not only produce clean rounds, but also to be relaxed and happy in their job. Nicki has a great talent to ride any horse with finesse and feel. She has found incredibly suitable horses for Tara including Apple, Brightly, Anna and Conthaletta (Twinkle).
After a break from competition to have two beautiful children, Tara is excited to have a new mount and to get back in the ring! Her daughter Elie, now 5 years old, is currently competing in the walk/trot division with her pony Strawberry Hill.
Tara teamed up with her equestrian sister Siobhan Gallagher to form the real estate partnership The Gallagher Team with Douglas Elliman (www.gallagherteam.com). Additionally, she and her husband have formed a family office to manage their real estate portfolio and investments.
You can learn more about Tara and her equine partners at www.edenvalleystables.com